The Best Colour Schemes for Your Bathroom
Saturday May 13th, 2017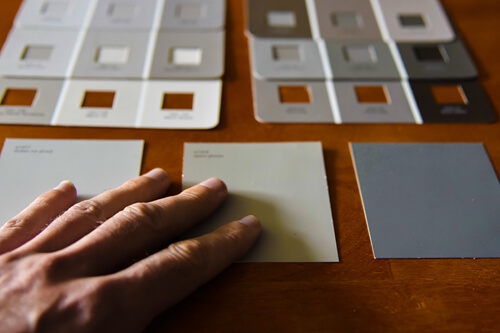 Your bathroom is an area of your home that is more functional than decorative, but that doesn not mean that it needs to be boring. There are a number of ways you can quickly make this room as aesthetically pleasing as the rest of your house.
While an extensive remodel can take up a lot of time and money – particularly if it involves the piping that leads to the shower or sink – there is a simple solution to your decorating woes: a fresh coat of paint. If you are looking to upgrade your bathroom, consider one of these colour schemes to create a completely new look on a budget:
Hues of Blues
One of the most popular styles for bathroom décor is shades of blue. Perhaps because of the allusion to water, variations of aqua, azure, cobalt and similar tones seem appropriate for this room. This colour scheme can be particularly appropriate if you want to make your own play on the popular beach theme for your bathroom.
Grey, Grey and More Grey
If you want a more modern look, try shades of grey. Monochromatic colour palettes are a popular choice for creating a sophisticated, yet simple, theme. Sticking with mostly lighter shades will keep the tone from becoming overpowering. Forbes reported that the result is a clean and simple look that provides depth and classic feel, particularly with the addition of fresh flowers.
Looking for a little extra luxury? Think outside of a can of paint. The publication recommended using carrara marble, which features elegant white and grey veining that will mesh well with the rest of the colour scheme. The combination of grey walls and marbled countertops or other features are a winning combination for the minimalist who wants to subtly elevate the tone of the room.
Sunny Yellow
Do you have a bathroom that gets a lot of natural light? If so, a yellow colour scheme may be a good way to accent the bright, cheery tone of your room. A coat of a more mellow tone on the walls will give you plenty of options for coordinating décor, while a vibrant shade of yellow is a more bold choice that should be paired with simple, but equally bold, accents.
If you really want to make a statement, Better Homes & Gardens recommended highlighting this bright accent colour with small tiles in the shade on the floor or walls to lend a vintage vibe to the room.
Neutral Space
A popular trend in bathroom décor this year is the use of a neutral colour scheme. From beige to cream, light off-white colours create a clean look that will not expose dirt and grime as clearly as pure white.
As an added bonus, using entirely similar tones will create an open, airy feeling that will make the room appear larger than it actually is. A bold contrast colour, like black or navy, can divide up the space, making it look smaller. Better Homes & Gardens recommended the calming combination of pewter and ivory. Consider painting the walls pewter and then complementing the look with an ivory vanity or other furniture if you want a drastic change in your décor.
Whichever colour scheme you choose, there is nothing that can set off your new paint like some new bathroom accessories. Visit the nearest Wolseley Canada Vague & Vogue showroom to find faucets, shower heads and other options to complement your new bathroom décor theme.