5 Ways to Make Your Small Kitchen Larger
Thursday March 2nd, 2017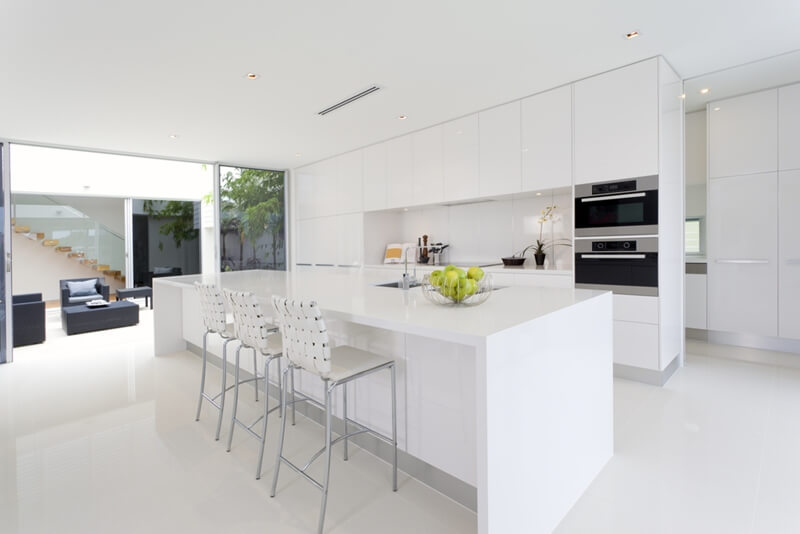 A small kitchen can be a challenge. From the limited counter space to lack of storage, this room may not exactly be your favourite one in your home. Though you can't magically expand your kitchen – unless you're willing to knock down a wall, anyway – there are ways to at least give the illusion that the space is larger than it actually is, making a more enjoyable area for both you and your guests.
Trying to make the most of your space? Use these five tips to make your small kitchen look bigger.
1. Eliminate clutter
The simplest way to make your kitchen appear larger is to simply eliminate clutter. Those dirty dishes, cook books and spice racks aren't just taking up space. They're also making the room look more cramped than it actually is. You can leave out a few essentials, but try to hide away what you can, including small appliances like your blender or food processor. Not only will this open up additional counter space when you cook, but it will also make the room appear bigger.
2. Install glass cabinet doors
Changing the doors on your cabinets won't give you extra space, but it will definitely give that illusion. According to Better Homes & Gardens, the glass pulls the eye past the cabinets themselves and back to the wall. So while the shelves will still hold the same amount, being able to see farther will make it seem like there's more space in the kitchen. Plus, it's a great opportunity to show off your favourite dishes. However, this trick is most effective when you keep your cabinets organized. As with your counters, a lot of clutter will have the opposite effect. A white colour scheme will help your small kitchen space seem bigger.
3. Stick with light colours
If the colour scheme of your kitchen is comprised of dark or bold shades, it's time to pull out a paint brush and a bucket of white paint. Apartment Therapy reported that using all light or white tones will give your kitchen a more airy feel, making it appear larger. Whatever shade you choose, try to limit the contrast. Sticking with colours that are in the same family is another way to open up your kitchen and give the room a more spacious feel.
4. Maximize light
Open up every corner of your kitchen by maximizing the natural light that comes in. Even though you most likely won't be able to add an extra window to your kitchen, there are still ways to give the room some additional light. Your first step should be to look at your window treatments. Opt for something that let in more light without sacrificing your privacy, like simple wooden blinds that you can adjust as needed. You should also think about your window sill. A potted plant or two is nice, but your mini garden could be blocking the light.
5. Use reflective surfaces
You're probably familiar with the decorating tip that mirrors can make a room look larger. But did you know that the same principle can apply to chrome and other reflective fixtures? Metallic surfaces, from your fridge to your faucets, help give the illusion of extra space. Look for stainless steel, chrome or other glossy surfaces. Even glass tiles on your blacksplash can help.
To find the right reflective faucet – or any beautiful upgrade for your kitchen sink – visit one of the Wolseley Vague & Vogue Show Rooms today. Our sales associates will be more than happy to help you find the perfect features for your kitchen, whatever the size.